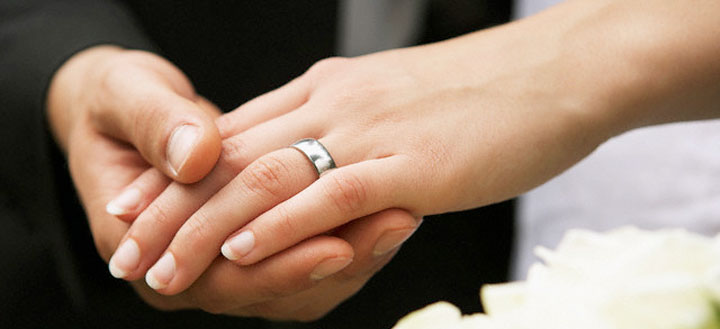 From 3 October 2020, the government's guidelines for marriage solemnisations at places of worship are as follows:
Marriage solemnisations can involve up to 100 persons (up from the previous limit of 50 persons), excluding the Solemniser, and religious and supporting workers, whose numbers should be kept to a minimum.
 

If the total number of attendees is between 50 to 100 persons, attendees must be split into multiple zones of up to 50 persons for each zone. The zones should be completely separated from one another by a physical solid partition, or at least 3-metre physical spacing demarcated by barriers (e.g. cones, ropes).
 
Within the zones, the attendees should be segregated as follows:

Wedding party of up to 20 persons, consisting of the couple, their 2 witnesses, immediate family members, and/or close friends
All other guests, who must be in fixed groups of 5 persons within their zone
 

Guests must remain within their zone and cannot cross over from 1 zone to another, except for the wedding couple who may do so briefly (e.g. to take photos). There should also be no inter-mingling between each group of 5 persons, or with the wedding party. The wedding party and each group of 5 persons must maintain a 1-metre distance between each other at all times, including for photo-taking. Where guests are seated, these should be fixed.
 
No food and beverages allowed at the solemnisation.
 
No live performances or activities involving singing, loud talking, or shouting.
 

Please take note of the following safe management measures:
 

Use of face masks/shields

Bride and groom may choose to wear face shields instead of face masks throughout the solemnisation, if they prefer to

 

Bride and groom may remove their face shields or masks during key moments (e.g. when exchanging vows, when exchanging rings, when the groom kisses the bride, and during the march in/out) as long as they maintain a 2-metre safe distance from others.
All other attendees must wear face masks in accordance with the prevailing national policy.
Masks may be momentarily removed for photo-taking.
 

To facilitate contact tracing, couples are to declare the identities of all attendees, including vendors, as well as their contact details to the Solemniser at least 1 day before the solemnisation. On the day of the solemnisation, the couple must make this list available on-site and the Solemniser should verify that the number of attendees matches the list provided and is within the 100-person limit (depending on venue).
 
Solemniser may postpone the solemnisation if safe management measures are not adhered to before/during the solemnisation.
 
All guests should download and activate the TraceTogether app before attending the solemnisation.
 
Couples should appoint a Safe Management Ambassador to assist in ensuring adherence.
 
Attendees must leave the place of worship immediately after the event.
 
For the safety of the vulnerable or elderly, encourage them to join in via video link, so as to better protect them from the risk of infection.
 
The Ministry of Health's advisory on prevailing safe management measures can be found at this link (under Marriage Solemnisations and Receptions): https://covid.gobusiness.gov.sg/safemanagement/sector
For further queries, please contact Rev Simon Tan at simon.tan@fcbc.org.sg.
Journey Through Your Wedding Schedule
1) Sign up for our Marriage Preparation Course
Our commitment to see that you enjoy the best of your marriage starts at the very beginning. With expert assistance from TOUCH Community Services (TCS), we run a pre-nuptial Marriage Preparation Course for couples planning to tie the knot. This course has helped many of our couples find greater meaning to their wedding union.
Marriage Preparation Course Part 1 will resume through online weekend classes by end-May 2020. There are 4 sessions for Part 1, and each session is 3 hours long. Each class is limited to 10 couples, on a first-come, first served basis. Rebate by the Ministry of Social and Family Development is not applicable for these classes.
Signing up is easy.
a) Download the Marriage Preparation Course application form
b) Email the complete form vanessa.ong@fcbc.org.sg
c) Meet Rev Simon Tan for briefing of Wedding Policy
"For this reason a man will leave his father and mother and be united
to his wife, and they will become one flesh."
Genesis 2:24
2) Reviewing your application and course preparations
Upon receiving your application, our Wedding Services staff will notify you to arrange for a Wedding Policy briefing and to take the Taylor-Johnson Temperamental Analysis (TJTA).
"Though one may be overpowered, two can defend themselves.
A cord of three strands is not quickly broken."
Ecclesiastes 4:12
3) Finalising your wedding date and venue
Upon completion of your Marriage Preparation Course, your Team Pastor or Marrying Pastor will finalise the wedding date, together with your spouse-to-be and you. By this time, both of you can begin to look for possible venues to host your wedding.
Being a FCBC member, priority is extended to host your big day at Touch Centre (location map). However, as demand at this facility is high, you are highly encouraged to call in regarding its availability for your chosen date as soon as your course completes. Please direct your enquiries to 6424 9400 or contact us.
Alternatively, you may also choose to host your wedding at Gateway Theatre's Sky Garden. Details on Gateway Theatre's exclusive rates for FCBC members can be found here. For more enquiries, contact 6819 0781 or email sales@gateway.sg.

 FCBC Wedding Policy

 FCBC Wedding Flow Chart

 Marriage Preparation Course Application Form
Questions
For more information regarding wedding preparations at FCBC, please contact our Wedding Services staff, Vanessa Ong
You may also visit the ROM website for more information
To find out more about getting married at FCBC, please contact Rev Simon Tan at simon.tan@fcbc.org.sg.