Saturday, October 24, 2015
Two members of our Hokkien Celebration Service got married at TOUCHCENTRE last Saturday. What's so special, you may ask. Well, the bride is 75 years old and the groom is 85 years old.
"Love has no age, no limit; and no death." – John Galsworthy
Ng Ngian How, 85 and Monica, 75, vowed to love each other for the rest of their lives at a simple, yet heartwarming marriage blessing ceremony that was officiated by Hokkien Pastor-in-charge Daniel Gan.
You're never too old to find love!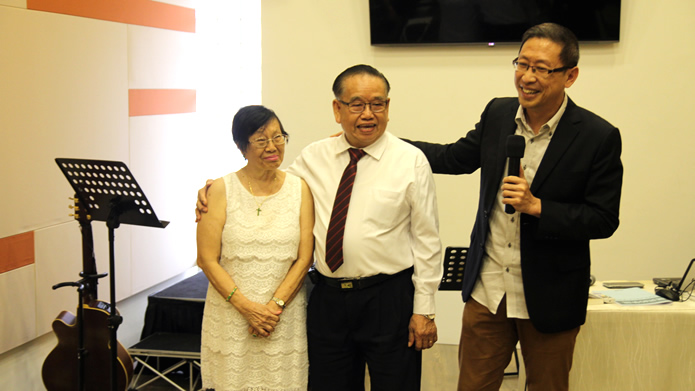 Share with us how the both of you met?
Monica: I met him at Woodlands bus interchange. He approached me asking which bus to take to Toa Payoh. I was going to Marine Parade, so I told him the bus I was taking would be passing by Toa Payoh, and he got on with me. However, when the bus reached Toa Payoh, he didn't alight, instead he followed me all the way to Marine Parade! And that's how our story unfolded!
How did Ngian How end up at FCBC?
Monica: When we first got to know each other, he wasn't a believer yet so I really wanted to share Christ to him. Because I attend the Hokkien service at FCBC, I invited him to attend service with me at 3.00pm the following Saturday.

What change took place after he attended Hokkien service with you? Were there any challenges?
Monica: Ngian How became more cheerful and looked forward to attending Hokkien service every Saturday. He also got baptised and we started attending cell meetings together. One challenge I face is having to continuously remind him to pray and read the Bible daily, to give thanks to God every morning and night before he sleeps.
Share with us two things you like about our Hokkien service?
Monica & Ngian How: The warm welcome from the ushers and fellow members attending the service made us feel very comfortable at the service. Whenever we have any need for prayer, there's always pastors and leaders to pray for us individually at the end of the service. This prayer support is really a big form of encouragement for us.
Tell us how you're feeling on your big day!
Ngian How: Monica sells health products and she takes care of me by supplying proper medication and ensuring the food I eat daily is healthy and nutritious. I can still get married at the age of 85, it's just so amazing! You ask me how I feel? I'm happy to tell you, I am overjoyed! Hallelujah!
Monica: I give thanks and all glory to God and am delighted to share my joy with everyone!
---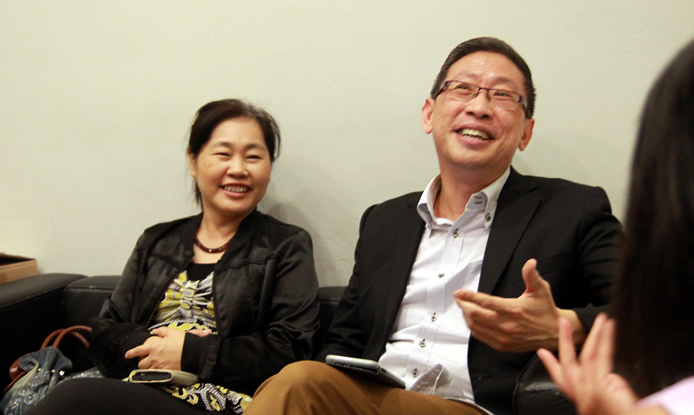 We also spoke to Pastor Daniel and Patsy Gan after the ceremony. As witnesses to their love and marriage, as well as their spiritual leaders, both Pastor Daniel and Pastor Patsy had much to say.
Share with us your thoughts after witnessing this marriage?
Pastor Daniel: Their testimony encourages me. I am especially thankful that the first thing on Monica's mind was to bring Ngian How to church as we always encourage our Hokkien members that we're a G12 church and our goal is to win people to Christ. This goes to show that our Hokkien members really do make winning people to Christ a priority in their lives. And as their leaders, we are encouraged! We hope to see more embracing the G12 Vision, and more joining our cells in the days to come! For God says, "Seek first His kingdom and His righteousness, and all these things will be given to you as well." Their love story is just so beautiful! I don't think Monica or Ngian How ever thought they would remarry at the ages of 75 and 85 years old. Indeed our God blesses us in more ways than we can ask or even imagine. It's a first for me to bless a couple at this age too! Wow!
What are your wishes and blessings for them?
Pastor Daniel: I pray that God will give them many more good years together so they can spend more time together and enjoy each other's company in the days to come. Congratulations once again!
Pastor Patsy: Just like fairy tales, I wish for them to live happily ever after!