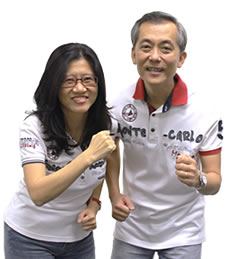 Tay Chin Kwang accepted Jesus as his personal Lord and Saviour in FCBC in 1990. FCBC is his first and only church. He grew spiritually together with FCBC, and saw the grace of God upon FCBC from the days of cell-based church to today's G12 church. He is an established professional and an investor-cum-business owner. A trained accountant, he has held numerous senior positions in medium to large enterprises. He has also invested and ran companies in the technology and business consulting sectors.
God called Seah Hsiu Chin to FCBC in 1993, one year before her marriage to Chin Kwang. She answered God's call to be a homemaker when her first child was born and quit her work as financial controller of a US company. God used these 20 years of staying home to train her in raising not only a physical family but also a spiritual family. In 2008, in the midst of a cell group crisis, God showed her a vision of her living room filled with people. She believed God and the cell group more than doubled in a year.
The couple believes every person can be transformed by the love of Jesus and works hard in discipling the people under them to fulfill their potential in the Lord. They see success in life as being in the centre of God's will, doing the things that God calls them to do, and enjoying God's presence in the midst of it. They take God's promise in Mark 1:17 seriously: "Come follow me, and I will make you fishers of men." Their vision is to see every team member become a leader of 144 leaders and see FCBC explode under the G12 Vision.
Both Chin Kwang and Hsiu Chin were installed as Team Pastors in August 2018. They are the first set of Team Pastors who are from the marketplace and not full-time staff. They have three lovely children – Samuel, Isaac, and Esther.