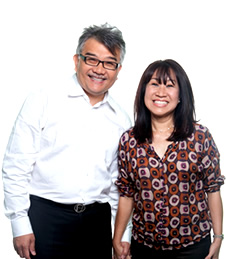 Simon Yee is a Team Pastor in FCBC. He has been serving full-time since 1992. Prior to serving the Lord, he worked as a manager in sales and marketing positions with various multi-national companies. He has a Certificate in Sales and Marketing from the Marketing Institute of Singapore. He enjoys reading and served as a choir master in the past.
Marilyn Yee joined her husband as a Team Pastor in 2010, although she had always been serving alongside him even when she was working in the banking and stockbroking sector, and later, focusing her efforts in the real estate industry. She feels that her involvement in the corporate world keeps her abreast of corporate culture and helps her stay relevant to working women. She desires to help women grow to be like the Virtuous Wife in Proverbs 31, where God has endowed the woman with the ability to juggle church, children, family, and career. Marilyn believes that women in FCBC can be similarly anointed.
The couple is passionate about the "three-strand cord" of God, husband, and wife. "A cord of three strands is not quickly broken." (Ecclesiastes 4:12). To this end, they serve together running premarital classes and marriage encounters, as well as counselling couples to build strong marriages. They have been blissfully married for over 30 years and have three children – Samantha, Stefanie, and Michael.