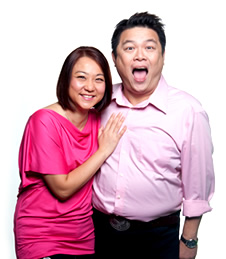 Roland Lee is a Team Pastor. He received God's call in 1998 to enter full-time ministry and headed TOUCH Forces in 2000. Together with his wife, Lai Fun, they lead FCBC's Young Adults Ministry. He is also a worship pastor. Under his mentoring, the Youth Celebration Team was formed. Roland holds a Bachelor's Degree in Communication Studies (Honours) and previously worked in MINDEF Public Affairs. He has a heart for youths, particularly in the area of teaching and mentoring.
Lee Lai Fun has been a youth pastoral staff for many years, rising up from the ranks as an administrative staff in the Youth Ministry. She met her husband while they were serving in the ministry. Working with the TOUCH Cyber Wellness department under TOUCH Community Services for two years also gave her valuable insights about young people. She left the full-time ministry to care for their son in 2007, but has since obeyed the call and returned to serve the Lord as a Team Pastor.
Like her husband, she has a passion to see young people touched and transformed to become committed disciples who fulfill the Great Commission. Together, the couple desires to raise a generation of faith-filled and faithful young people who will make a difference and reach their generation. They pastor their team as a strong family that loves one another and moves together for God's work.