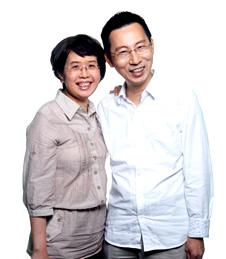 Richard Ong is a Team Pastor and Executive Pastor of G12 Asia and Missions. He is also the Executive Director of G12 Asia Pte Ltd. Previously, he was the Executive Director of TOUCH Ministries International Pte Ltd and North District Pastor for a number of years. Prior to his pastoral career, Richard Ong was an instructor with Lockheed Aircraft Services Singapore before he ventured into printing and trading for more than 10 years. He joined FCBC as a full-time staff in 1992. He spent two years studying for his Bachelor of Theology at Singapore Bible College and has been involved with "The Navigators" for 11 years. His vision is to help fulfill the Great Commission by building leaders of disciple-makers in the nations.
Jenny Ong joined her husband in 2002 as a Lay Pastor to mentor women in FCBC. She formerly worked part-time in TOUCH Ministries International as International G12 Coordinator (Women's Network). Prior to this, she worked as a Senior Technical Officer in Housing Development Board (HDB) and taught part-time at the Institute of Technical Education (ITE).
She knows first-hand the challenges and joys of building a small group, having served as a Cell Leader. Her vision is to BUILD (Build Up every Individual in Love and Discipleship) based on Matthew 28:19-20: "Therefore go and make disciples of all nations, baptising them in the name of the Father and of the Son and of the Holy Spirit, and teaching them to obey everything I have commanded you. And surely I am with you always, to the very end of the age." The couple has three children, Rachel, Joanna, and Joel.