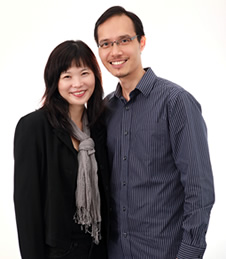 Patrick Pang began his full-time pastoral ministry at FCBC in 2000 in response to God's call and faithfulness in his life. He formerly worked as an IT Consultant at IBM Singapore for seven years. Patrick, a parent educator and work-life consultant with TOUCH Family Life Education, enjoys mentoring young adults, couples, and families to impact society and the marketplace for Christ. He also ministers regularly at TOUCH Senior Activity Centre as he feels for the elderly and people with special needs.
Patrick desires for his loved ones and spiritual family to be well-equipped and continue to run the race with endurance and purpose as written in Philippians 3:12, "Not that I have already obtained all this, or have already been made perfect, but I press on to take hold of that for which Christ Jesus took hold of me."
Hilary Pang currently works as a Head of Department at a secondary school. She yearns to leave a spiritual legacy for the next generation in hope that they will fear God, believe in Him for greatness and abundant living, hunger for His Word and thirst for His Holy Spirit, relentlessly oppose the forces of darkness, and live passionately and zealously for God. Her daily prayer is that she will take up the cross, deny herself and mark her life with Philippians 3:10, "to know Christ and the power of his resurrection and the fellowship of sharing in his sufferings, becoming like him in his death". In January 2013, Hilary responded to the call to serve faithfully alongside her husband as a Team Pastor.
Patrick and Hilary Pang are blessed with four wonderful children – Gabrielle, Michael, Daniel, and Christelle. The couple looks to God to empower them to lead His people in humility, with skilful hands and integrity of heart.