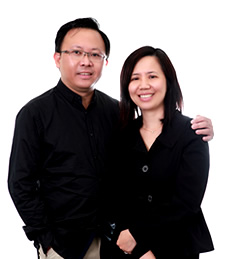 Loke Mun Tai, a former Quality and Customer Support Engineer, accepted Christ in his University days through "The Navigators". He was serving as a student leader in "The Navigators" before committing himself to leading and supervising cell groups as a Lay Leader in FCBC. In June 1999, he answered God's calling to join FCBC as a full-time pastoral staff.
In his spare time, Mun Tai enjoys reading engaging novels, such as "The Lord of the Rings" and "The Silmarillion" by J. R. R. Tolkien. He also fancies patronising IT malls and quarterly IT shows, as well as tinkering with electronic gadgets, developed from his engineering and manufacturing days.
Mun Tai is passionate about discipling lives that will make a difference in propagating the Kingdom of God. As of January 2013, Mun Tai is officially a Team Pastor.
Alicia Loke, an active member and Cell Leader of FCBC since 1992, has been a strong supporter of her husband's ministry as they share the same vision of ministering to God's people – to help Christians become true disciples and fulfill God's destiny for their lives. She enjoys working with people and seeing their lives changed and their walk with God deepened each day. She believes that all believers can "do all things through Christ who strengthens them" (Philippians 4:13).
Alicia is currently working in a local bank, supporting the human resource function of technology and operations. In January 2013, she likewise responded in faith to serve, in partnership with her husband, as a Team Pastor.
The couple has a lovely daughter, Abella, whom God has graciously blessed them with in 2011.