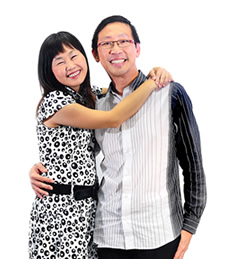 Daniel Gan joined FCBC in 1988 and started serving as a Cell Leader in 1990 when he was an undergraduate in Nanyang Technological University. Since then he has served as Zone Supervisor, Open Cell Leader, and G12 Leader for the past 20 years. Daniel responded to God's calling to serve as a full-time Pastor in 2011 and is also concurrently serving as a Project SMILE Manager in Gateway Entertainment. He loves to serve among the Chinese-speaking people and desires to see them rise up to be men and women who fulfill God's destiny in their lives.
Daniel has a Bachelor's Degree in Mechanical & Production Engineering from Nanyang Technological University. Prior to joining FCBC, Daniel was a Senior Quality Engineering Manager at Seagate Technology International, a company which he served for over 18 years.
Patsy Gan joined FCBC in 1988 and was happily supporting her husband in his ministry until she rose to become a Cell Leader in 2002 and was concurrently a member of the Chinese chorale team. She is presently a homemaker looking after their three lovely children, Dovyn, Jovyn, and Felyn.
A state registered nurse who worked in hospitals and private clinics for more than 12 years, Patsy loves working among the Chinese-speaking people, especially the elderly whom she wants to see live a God-centred purposeful life. She claims God's promise in Jeremiah 29:11, "'For I know the plans I have for you,' declares the Lord, 'plans to prosper you and not to harm you, plans to give you hope and a future.'"