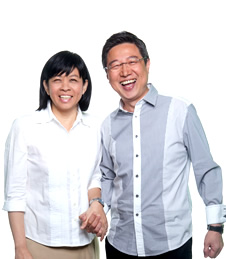 Cheng Kim Meng is a systems man and a people person. Before joining FCBC as a staff, Kim Meng worked in the Systems and Computer Organisation in the Ministry of Defence as well as headed the IT department of Singapore's International Monetary Exchange, and lectured at Ngee Ann Polytechnic. Kim Meng responded to the call to serve as a full-time pastor in 1996 and has served in FCBC as IT Director, Zone Pastor, District Pastor, and Team Pastor. His passion is to raise strong and godly families that reflect the image of Christ and are committed to the Great Commission.
Cheng Huey Teng also has a special calling to build people, but in a different setting. She and her husband both graduated with Honours Degree (Physics) and Master's Degree (Computing). She also obtained a Post-Graduate Diploma in Education and has been an educator since 1986. Huey Teng taught in Nanyang Girls' High School and Raffles Junior College, and served in the Ministry of Education as an Assistant Director. She is now the Principal of a primary school. "My education career has developed me to lead people and manage systems. God has also put in my heart a love for the youth, for the people I serve in church, and for the community, which I believe has prepared me for my role as a Pastor," she says.
The couple is effectively bilingual. Together, they share a passion to build strong marriages and Christian families, as well as reach out to the Chinese-speaking community. They have a lovely daughter, Gloria.