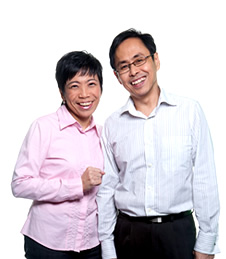 Asher Eng has a Master's Degree in Counselling and is an associate member of the Singapore Counselling Association. He is a certified counsellor, coach, family life educator, and marriage preparation instructor. He graduated with a Computer Science Honours Degree from the United Kingdom. Asher also worked as a systems engineer before serving as a Zone Pastor in FCBC in 1997. Subsequently, he served in a local church for almost seven years as a ministry staff to help the church transit into a cell church.
While in the local church, God prompted him with the verse from Haggai 2:9, which called him to "move out" – although he wasn't sure. In 2010, Asher answered Apostle Lawrence's invitation to be a Team Pastor, and lead a team together with his wife, Wendy. His vision is for all his team members to seek only God's heart and take ownership of the spiritual growth of Singapore and the region. He is inspired by the English Baptist missionary, William Carey, who said, "Expect great things from God. Attempt great things for God."
Wendy Eng has been serving in FCBC since 1994. She was formerly with the human resource division of a bank for 11 years before being called to full-time ministry. Before her appointment as a Team Pastor, Wendy spent time in various ministries, including being a Cell Leader, Zone Supervisor, Zone Pastor in the Music District, and also Network Pastor. Her passion is to see the lives of the members in her team transformed by the grace and goodness of God, fulfilling God's destiny for their lives, and glorifying Him as they serve Him and others (Romans 15:17). The couple has a son, Aviel.