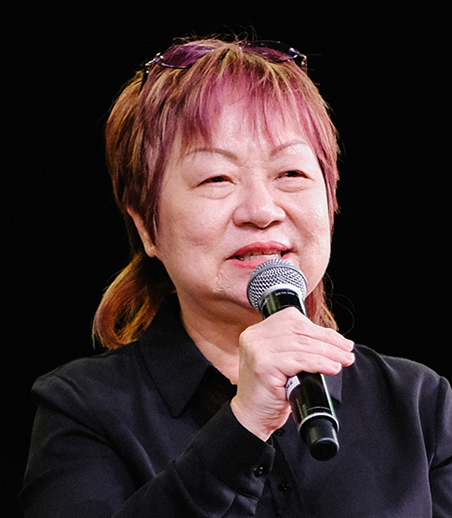 Training Season
While we never really can tell what the future holds for us, we can often look back to see how the seemingly disparate directions and experiences we've had in the past suddenly fall together. How the times in which God has taken us in seemingly different directions don't seem random at all but rather, critical to getting us where we need to be to fulfill His purpose for us. For Reverend Dr Nina, this was one realisation that pleasantly surprised her in the midst of a new direction in her life.
- by Edmund Tan
The Early Years
When Reverend Dr Nina first began to see the path that laid before her as a leader to the Women's Network in the church and how God wants the women to take a more significant role in the forefront of the church, she started feeling regretful that she had not seen this G12 role earlier. However, when she discussed this with visiting Reverend Rick Seaward, he corrected her gently – this was God's timing for her "to take a back seat first and now to take a step forward". Everything she had gone through before was part of her training. Only then did this truth suddenly become clear and she now appreciates her past experiences in a new way.
Nina came to know the Lord in her early teens when her friends brought her to Youth for Christ meetings. When Nina received her placement in National Junior College, she met her future life partner, Lawrence Khong, who was assigned to help a schoolmate of Nina's but was confused and helped this new Christian get orientated in her new school.
Dallas Training
After nine years of courtship, Nina graduated from medical school and they were married. The newlyweds headed to Dallas where Lawrence was trained at Dallas Theological Seminary. Nina calls her time in Dallas, a period of "God's training".
At the Dallas church where Lawrence was pastoring, Nina spent her time working with Cambodian refugees doing whatever she could from visiting them, bringing them to church, translating, to getting them groceries and clothes. She also helped to run and teach the children's church in Dallas as well as worked with other married couples, including newlywed couples in a midweek cell group meeting in their apartment.
Back to Singapore
Returning to Singapore, Nina was tasked to start the church's nursery in the new church building. The experiences gained in Dallas meant she now had a much clearer idea of what had to be done and how she could achieve them.
Initially, Nina practised as locum tenens, but in 1984, God gave her a vision to start her own clinic which she continued to run for the next 16 years.
She also conducted courses for expectant mothers called Prepared Parenthood where the participants were reminded of God's part in the formation of their child as well as their individual responsibility for their own health and physical preparation during pregnancy and childbirth. Together with Lawrence, they pioneered the first cell group in their home, which is the precursor of FCBC's cell group ministry.
It was only when she was blessed with a third child, coupled with her eldest child Priscilla entering primary school as well as with a greater demand on Lawrence's time due to the growth of FCBC that Nina decided to slow down from active service in church and focus on her role as a wife and a mother. From that time on, Nina's role was more supportive in the home front as Lawrence's international ministry and demands of his time overseas grew. "I felt at that time I had to cover all the bases at home so as to free Lawrence to serve well without worrying over our needs."
In 1999, Nina was involved in a serious accident and was in intensive care for a few days. She recovered but the incident was significant because for the first time, she realised how independent her children had become. It was also significant because it eventually contributed to her decision to stop her clinic in 2000.
Catching the Vision of G12
In November 2001, Lawrence and Nina visited Pastor César Castellanos of International Charismatic Mission in Bogotá. During the visit, Nina's attention was drawn to the passage where God asks Abraham to leave his country, his family, and his father's house (Genesis 12:1-3). These verses reminded her of her struggle with God to leave the comforts of Singapore and go to Dallas so many years ago. But now she understands the promise of God fuller and since becoming Head of the Women's Network, she claims the promise of multiplication of souls.
At a subsequent meeting with Pastor César at the G12 Asia Conference in February 2002, Nina felt challenged again. The timing could not have been better. This time, she found herself totally available and she accepted the call to rise up as a woman to serve God in whatever way He directs her.