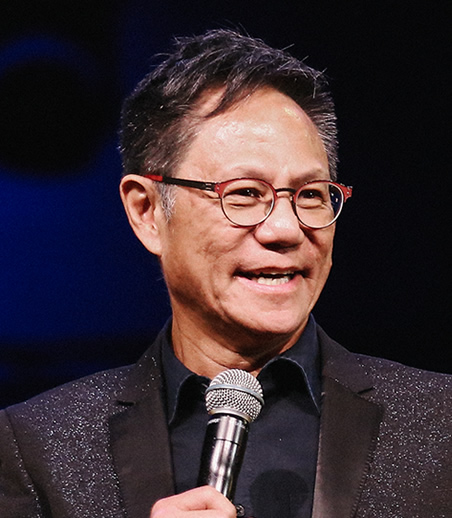 The Leap of Faith
It's a natural reaction to wonder sometimes; whenever you meet someone who has given his life to his faith, on what prompted that life-changing decision?
For some, it is a personal experience, for others, a powerful testimony given by someone else, and for some like Apostle Lawrence Khong, both. In my interview with Lawrence, I learnt that there were two very fundamental turning points in his life and at each point, God presented Lawrence with both a direction and a choice – to take a leap of faith into the unknown, or continue in his comfort zone.
- by Edmund Tan
Port Dickson
The first major turning point in young Lawrence's life happened during his first year in University. Despite already coming to know the Lord at the age of 13, Lawrence had backslid during his army days. Lawrence recalls his thoughts, "I had decided I wasn't the Christian type and that I couldn't fit into the mould". Despite this, Lawrence found himself at a church camp at Port Dickson. However, he treated it like a vacation and ignored many of the camp rules and activities.
On the third day of the camp, a 10 year old boy had a misadventure and drowned. The tragedy made Lawrence reflect deeply on life and on himself – "I saw the wickedness of my own heart. I saw that we are dangerously wicked but think we are too smart to avoid the consequences." He was, at the same time, profoundly struck by the response of the camp leaders who gathered everyone to pray.
That night, Lawrence returned to his dormitory feeling both the emptiness in his life and the hunger to seek meaning. He cried for the first time in years. He remembers the prayer he made at this turning point, "God, I need you but no promises. I'm just a stupid chain smoker but if you think you can help me – help me. Here's my life."
It wasn't the first time Lawrence had attempted to return to God but this time, it felt real to him and it was. "I never smoked again and the Lord just changed my life. The attitude and anger just got dealt with and I grew to love the Word and became submissive to authority."
A New Start
Not only did Lawrence return to church, he joined the Varsity Christian Fellowship (VCF) and eventually preached on the pulpit while he was still an undergraduate. Upon graduation, Lawrence received such a strong calling that he had no doubt God wanted him to serve full-time in his church, Grace Baptist Church. Without hesitation, Lawrence accepted the call and worked in the church. A year and a half later, he married his fiancé, Nina (who was by then a houseman), and the two set off for Dallas where he attended Dallas Theological Seminary. While studying there, Lawrence was asked to pastor a Dallas church with a Chinese congregation because he could speak some Chinese. It was a real challenge. "Pastoring a church anchors your life and you have to cry out to Christ," Lawrence recalls. Returning to Grace Baptist Church in 1981, Lawrence worked hard for the next four years. From a congregation of 300, the number grew to 1,600. It was the fastest growing Baptist Church in Singapore. At the end of 1985, Lawrence unexpectedly experienced the Holy Spirit and his faith journey took a deeper dimension. This signalled the start of a new phase in his life. A time of personal brokenness was replaced by great joy and peace with the growth of the new church, Faith Community Baptist Church (FCBC). Lawrence's vision is to establish a church that influences the whole of Singapore and the communities within it. Staying true to its name, FCBC has remained focused on the community at large, as well as growing the community within the church. In the first lap of the church, FCBC started TOUCH Community Services (TCS), an integrated network of social services within Singapore and it now extends beyond its own shores. Another hallmark contribution to Christendom was the establishment and outworking of a highly effective cell church model, which allowed for body ministry to be practised by every pastoral and lay members of the church.
Media
With a strong conviction in the Great Commission, Lawrence is particularly passionate about reclaiming the world of contemporary mass media in all its popular forms. To this end, TOUCH Media Ministry (now known as Gateway Entertainment) was created to help FCBC communicate the gospel message to thousands who do not normally attend church. Lawrence recognises that there is still a lot that can be done in terms of taking the church to the marketplace. Each new area TOUCH Media Ministry ventures into is yet another exciting opportunity to see God at work through a hitherto forgotten medium that is popular culture. Projects such as the eight completed telemovies, including "Miracle Pub" featuring well-known actors, are just the tip of this iceberg. He remains mindful, however, that each new step towards God's destiny must be truly ordained and directed by God.
G12
Much of Lawrence's passion has also been in the area of seeing the church grow. Representing another pioneering move among churches here, Lawrence introduced FCBC to the Government of 12 (G12) cell church model. Providing greater opportunity for church members at all levels to be properly discipled, the model's homogeneous approach where men and women are given separate networks also means that structurally, women have the opportunity to grow and serve. This structure could not have come at a more opportunistic time. As a church, FCBC's size and rate of growth are both remarkable. As such, the G12 approach will poise the church for explosive exponential growth as FCBC members touch more lives with God's message.
Faith Answered
On August 17, 1986, FCBC held its first worship service in a rented auditorium. As Lawrence delivered his first message to the new congregation, the Holy Spirit gave him the words of Haggai 2:9: "The glory of this present house will be greater than the glory of the former house. 'And in this place I will grant peace' declares the Lord Almighty." Lawrence's first leap of faith in that church camp so many years ago was admittedly a little reserved and his promise to God in his prayer at that time was also of little faith. Nevertheless, God has clearly taken the mustard seed of faith offered by Lawrence and moved a mountain with it, launching him into a new milestone in the ministry of the gospel.
*For more on the beginnings of FCBC, read Lawrence's book, "The Apostolic Cell Church".